Biphasic Isophane Insulin, Human Insulin: Humulin® M3, , Insuman Comb® 15, Insuman Comb® 25, Insuman Comb 50
Animal Insulin: Hypurine Porcine 30/70 mix
Biphasic Insulin Lispro: Humalog Mix® 25, Humalog Mix® 50
Biphasic Insulin Aspart: NovoMix® 30
Long-acting: Lantus® [insulin glargine], Levemir® [insulin detemir]
Short-acting: Actrapid®, Humulin® S, Hypurin® Bovine Neutral, Hypurin® Porcine Neutral, Insuman® Infusat, Insuman® Rapid, Fiasp® [insulin aspart], NovoRapid® [insulin aspart], Apidra® [insulin glulisine], Humalog® [insulin lispro]
Intermediate-acting: Isophane Insulin, Isophane Protamine Insulin: Humulin® I, Hypurin® Porcine Isophane, Insulatard®, Insuman® Basal
[This monograph covers TWICE daily injections of insulin – for continuous subcutaneous infusion, ONCE daily, THREE, FOUR or FIVE daily injections see separate monographs as advice is dependent on the regime used]
Issues for Surgery
Hypoglycaemia if continued during nil by mouth period.
Increased risk of post-operative infection and delayed wound healing due to poor glycaemic control if discontinued.
Advice in the Perioperative period
Insulin products are classified according to their duration of action and it is important to understand the type of insulin and the regimen the patient is on in relation to the advice to be given perioperatively. Confirm with the patient the exact name, strength, dose, frequency and preparation of insulin(s) that they are using (see Further Information).
Elective Surgery
See figure 1 below.
When reducing insulin doses round to the nearest unit.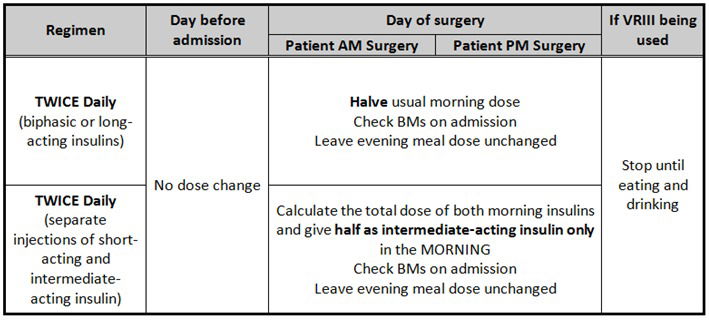 Figure 1 – Management of TWICE daily insulin in the Perioperative Period1
Emergency Surgery
The advice given above can be applied to patients presenting for emergency surgery. However, it must be remembered that these patients are high risk and are likely to require intravenous insulin infusion1.
Perioperative Considerations
Commence variable rate intravenous insulin infusion (VRIII) perioperatively where indicated and omit patient's usual insulin during VRIII treatment (see figure 1 above and Further Information).
Ensure emergency treatment of hypoglycaemia is prescribed i.e. Glucogel® and 20% dextrose. Rapid acting insulin should also be prescribed1, 2.
Post-operative Advice
Encourage an early return to normal eating and drinking (as deemed appropriate by the Surgical Team), facilitating return to the patient's usual diabetic regimen1. The insulin dose(s) may need adjusting, as insulin requirements can change due to post-operative stress, infection or altered food intake – monitor blood glucose levels and seek advice from specialist diabetes team if necessary1, 2.
Interaction(s) with Common Anaesthetic Agents
Reduction of Blood-Glucose Lowering Effect
Substances that may reduce the blood-glucose-lowering effect include sympathomimetics (e.g. epinephrine / adrenaline)3, 4, 5, 6.
Interaction(s) with other Common Medicines used in the Perioperative Period
Enhancement of Blood-Glucose Lowering Effect
Substances that may enhance the blood-glucose lowering effect of insulin and increase susceptibility to hypoglycaemia include sulphonamide antibiotics (e.g. co-trimoxazole)3, 4, 5, 6, 7.
Reduction of Blood-Glucose Lowering Effect
Corticosteroids can reduce the blood-glucose-lowering effect of insulin4, 5, 6, 7. Clinically important hyperglycaemia has been seen8. Monitor blood glucose concentrations closely when corticosteroids are given to patients with diabetes8.
Octreotide may either increase or decrease the insulin requirements5, 6, 7 but most patients with type 1 diabetes are likely to require a reduction in insulin dose9.
Further Information
Types of Insulin
Twice daily insulin regimens can be either administration of twice daily biphasic insulin or twice daily long-acting insulin. Biphasic insulins are pre-mixed insulin preparations containing various combinations of short-acting and intermediate-acting insulin. Intermediate-acting insulin are designed to mimic the effect of endogenous basal insulin (duration of action 11 – 24 hours). Short-acting insulins have a short duration of action and a relatively rapid onset of action, to replicate the insulin normally produced in response to glucose. Long-acting insulins are designed to mimic endogenous basal insulin secretion with a prolonged duration of action (may be up to 36 hours)2. Not all long-acting insulins are licensed for twice daily administration – consult product literature.
Safe Prescribing of Insulin
Insulin should be prescribed according to National Patient Safety Agency (NPSA) recommendations for safe use of insulin, with the brand name and units written in full1.
VRIII
Patients with a planned short starvation period (no more than one missed meal in total) should be managed by modification of their usual diabetes medication, avoiding VRIII wherever possible. Patients expected to miss more than one meal or type 1 diabetic patients who have not received their background insulin should have VRIII1.
VRIII is the preferred method of controlling serum glucose for most patients undergoing emergency surgery1.
References
Joint British Diabetes Societies for Inpatient Care. Management of adults with diabetes undergoing surgery and elective procedures: improving standards (Revised March 2016). Available at: www.diabetes.org.uk [Accessed 12th March 2019]
Joint Formulary Committee. British National Formulary (online) London: BMJ Group and Pharmaceutical Press. http://www.medicinescomplete.com [Accessed on 12th March 2019]
Summary of Product Characteristics – Lantus® (insulin glargine) 100 Units/ml solution for injection in Solostar pre-filled pen. SANOFI. Accessed via www.medicines.org.uk 07/08/2019 [date of revision of the text February 2019]
Summary of Product Characteristics – Levemir® (insulin detemir) Innolet 100 international units/ml. Novo Nordisk Limited. Accessed via www.medicines.org.uk 07/08/2019 [date of revision of the text May 2018]
Summary of Product Characteristics – Actrapid® (human insulin)100 international units/ml, Solution for Injection in a vial. Novo Nordisk Limited. Accessed via www.medicines.org.uk 10/08/2019 [date of revision of the text March 2018]
Summary of Product Characteristics – NovoMix® 30 (insulin aspart) FlexPen 100 units/ml. Novo Nordisk Limited. Accessed via www.medicines.org.uk 10/08/2019 [date of revision of the text March 2019]
Summary of Product Characteristics – HUMULIN® I (human insulin) KwikPen (Isophane) 100IU/ml suspension for injection. Eli Lilly and Company Limited. Accessed via www.medicines.org.uk 10/08/2019 [date of revision of the text July 2019]
Baxter K, Preston CL (eds), Stockley's Drug Interactions (online) London: Pharmaceutical Press. http://www.medicinescomplete.com [Accessed on 7th April 2019]
Insulin. In: Brayfield A (Ed), Martindale: The Complete Drug Reference. London: The Royal Pharmaceutical Society of Great Britain. http://www.medicinescomplete.com [Accessed 30th March 2019]