Elective Surgery / Procedures
Perioperative DOAC decision-making should take into account the patient's underlying thrombotic risk balanced against the bleeding risk associated with the surgery / procedure – see Anticoagulants (Oral) – A General Overview.
Assessment of Renal Function
Dosing of DOACs can be based on a number of factors, which includes renal function. It would be prudent to confirm that the patient is on the appropriate dose of DOAC. See current product literature or seek specialist advice if necessary.
DOACs have stable pharmacokinetics and a predictable elimination half-life. If the decision is made to interrupt DOAC therapy, the patient's current renal function should be used to guide when to stop DOAC therapy.
The Cockcroft-Gault creatinine clearance (also see calculation below) should be used to accurately calculate renal function. The eGFR may overestimate renal function, particularly in elderly or underweight patients and must not be used.

Use of DOAC therapy is contra-indicated if creatinine clearance (CrCl) < 15 ml/min (< 30ml/min for dabigatran) and any patient found to have a CrCl that contra-indicates the use of the DOAC should be immediately referred to a Haematologist. If there is any doubt as to the safe management of DOAC therapy in patients with reduced renal function (particularly CrCl < 30 ml/min), the advice of a Haematologist should be sought.
Minor Bleeding Risk Surgery / Procedures
Minor bleeding risk procedures can often be undertaken safely without DOAC interruption. A pragmatic approach would be to conduct the intervention 18–24 h after the last DOAC intake1 (i.e. omit any DOAC doses due on the morning of procedure).
For examples of minor bleeding risk surgery / procedures – see Anticoagulants (Oral)– A General Overview.
General Surgical Procedures (High / Low Risk Bleeding)
For examples of low and high risk bleeding general surgical procedures see Anticoagulants (Oral) - A General Overview.
Follow the advice in figure 1 below.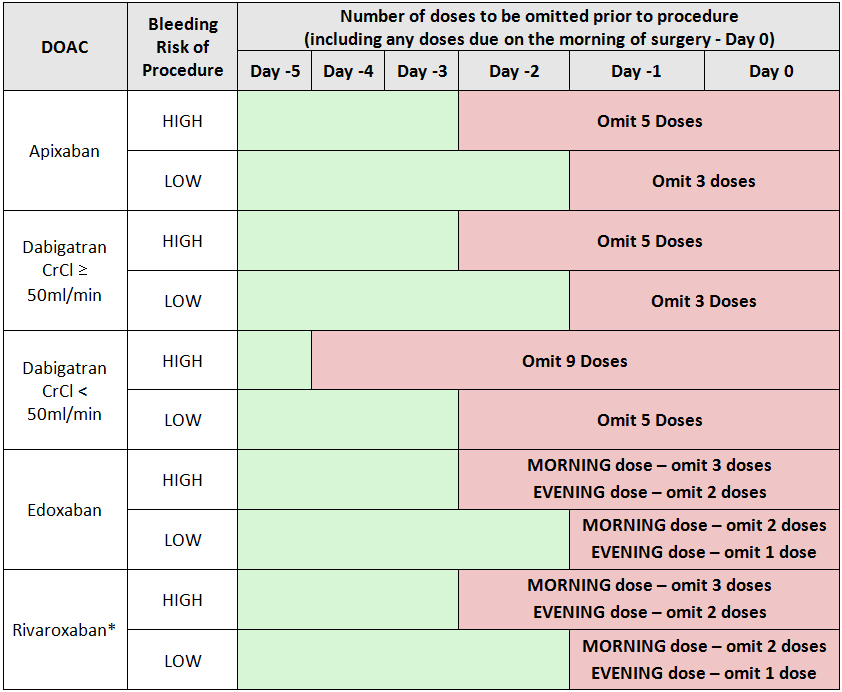 Figure 1: Number of doses of DOAC to be omitted prior to general surgical procedures2
* Low dose Rivaroxaban (2.5mg Twice Daily) is licensed for use in conjunction with aspirin +/- clopidogrel3. Refer to individual monographs for the perioperative management of aspirin and clopidogrel and discuss arterial thrombotic risk with a cardiologist or vascular surgeon (depending on indication for therapy). Pre-operative cessation of low-dose rivaroxaban has not been studied and patients should be managed on a case-by-case basis.


Endoscopy / Interventional Procedures
NB: Due to publication of the British Society of Gastroenterology and European Society of Gastrointestinal Endoscopy 2021 update for 'Endoscopy in Patients on antiplatelet or anticoagulant therapy, including direct oral anticoagulants'. This section has been temporarily removed while it is revised. Sorry for any convenience caused while we await this update.
Bridging Therapy
Bridging with therapeutic dose low molecular weight heparin (LMWH) is not required for patients on a DOAC – see Anticoagulants (Oral) – A General Overview.
Prophylactic dose LMWH may be considered in the post-operative period prior to DOAC resumption (see under Post-operative Advice below).
Emergency Surgery / Procedures
If there is not sufficient time to follow the guidance for elective surgery / procedures as above:
The procedure should be delayed for 12 – 24 hours, if possible, to allow plasma levels of the drug to fall1, 5.
Establishing therapeutic effect: -

for dabigatran – a normal thrombin time excludes the presence of therapeutic effect.
for apixaban, edoxaban and rivaroxaban – the INR, APTT and thrombin time cannot be used to immediately exclude therapeutic effect and should not be used for decision-making.
if DOAC levels are rapidly available and < 30 ng/ml, no reversal is required6.

If the procedure cannot be delayed the risk of bleeding should be weighed against the urgency of the intervention1, 7.
Use of a specific reversal agent should be considered (see Prohaemostatic Agents below)1.
If an anticoagulant effect cannot be excluded neuraxial anaesthesia should be avoided1.
Discussion with a Haematologist should take place to review the measures that can be taken to control bleeding prior to and during urgent surgery.


Prohaemostatic Agents
Tranexamic acid is a safe and effective adjunct and should be considered for all patients on a DOAC prior to and following emergency surgery1. It can be administered intravenously (IV) or orally (PO) (usual dose 1g three times a day).
Idarucizumab (Praxbind®) is licensed for rapid reversal of dabigatran in emergency surgery, urgent procedures and life threatening / uncontrolled bleeding8. A second dose may be required at 24 hours after the initial dose, particularly in patients with CrCl < 50ml/min (see current product literature)8. A Haematologist should be contacted to discuss patients who have a prolonged thrombin time and / or abnormal post-operative bleeding at 24 hours following the initial dose.
Prothrombin Complex Concentrate (PCC) can be considered for the reversal of apixaban, edoxaban or rivaroxaban in life-threatening or uncontrolled bleeding or prior to emergency surgery [unlicensed use]. Consultant Haematologist advice must be sought to approve use of PCC.
Andexanet alfa has recently been licensed in the UK for reversal of apixaban or rivaroxaban in life-threatening or uncontrolled bleeding. It has not been investigated when direct oral factor Xa inhibitors are administered before surgery or other invasive procedures; hence it is not currently licensed for this indication9. The current expected publication of NICE guidance on this agent is June 202010.
Perioperative Considerations
Neuraxial (Spinal / Epidural) Anaesthesia or Lumbar Punctures
In patients treated with DOACs who require neuraxial anaesthesia or lumbar puncture, there is a risk of developing an epidural or spinal haematoma that can result in long-term paralysis. The risk may be increased by post-operative use of indwelling epidural catheters or concomitant use of medications affecting haemostasis7, 11, 12.
Continuation of DOACs in patients who receive neuraxial anaesthesia is not recommended due to the risk of spinal haematoma13.
Indwelling Catheter Removal Advice
NB: This section is currently under review - please check regularly for updates
The following advice is taken from The Association of Anaesthetists of Great Britain and Ireland guidance on Regional Anaesthesia13 (NB: advice for edoxaban has been extrapolated from rivaroxaban since they have similar pharmacokinetic profiles).

Figure 3: Advice on timings of DOAC doses in relation to removal of an indwelling catheter13.
*It is recommended that in the event of traumatic puncture, the administration of rivaroxaban should be delayed for 24 hours3. Although not recommended by other DOAC manufacturers, consideration should be given to delaying administration of all DOACs by 24 hours in the event of traumatic puncture.
Post-operative Advice
NB: All DOACs are rapidly absorbed and have a rapid onset of action, with peak anticoagulant activity at approximately 2-3 hours after oral ingestion. Attention to post-operative haemostasis is clinically important since too early resumption of DOACs, especially within 24 hours of surgery, is associated with a two- to fourfold increased risk of major bleeding5.
Minor / Low Risk Procedures
Recommence 6 – 12 hours post-procedure if haemostasis has been fully secured5.


High Risk Procedures / Increased Bleeding Risk
Do not recommence at full-dose until at least 48 hours post-procedure5.
Consider prophylactic LMWH, commenced 6-12 hours post-op based on patient's thromboembolic risk and bleeding risk.
LMWH should be discontinued immediately upon recommencing DOAC.
Patients Who Have Received Idarucizumab
Re-initiate DOAC a minimum of 24 hours (48 hours for high risk procedures / increased bleeding risk) after administration of idarucizumab, if the patient is clinically stable and adequate haemostasis has been achieved1, 8.
If necessary, alternative antithrombotic therapy (e.g. LMWH) can be started at any time, if the patient is clinically stable and adequate haemostasis has been achieved8. Alternative antithrombotic therapy should be immediately discontinued upon recommencing dabigatran.
Patients Who Have Received Andexanet Alfa
Re-initiate DOAC as soon as medically indicated if the patient is clinically stable and adequate haemostasis has been achieved14.